Navigation
2015 AQP
Results
Soapbox Comments
Received Logs
County Activity




2014 AQP





2013 AQP

County Activity
Received Logs





2012 AQP




2011 AQP




2010 AQP




2009 AQP




2008 AQP




2007 AQP




2006 AQP




2005 AQP




Past Events
2015 County Activity
The goal is to activate all Alabama counties!!
If you are planning on operating, as a fixed station, mobile or an individual station from an Alabama County(ies), please let me know your callsign, category, mode, what county(ies) and when you will be operating, by sending
email to me
. Thanks!
Updated May 31st, 2015
County Activity (Includes all stations thus far):
Those counties that are grey in color have no activity as yet.
Need as many operators as we can for all counties. So please consider operating from your home county. There will be plenty of activity!
If you can consider going mobile and cover a few counties, I am sure that it will be fun!
All counties will have activity--Thanks to all that are participating!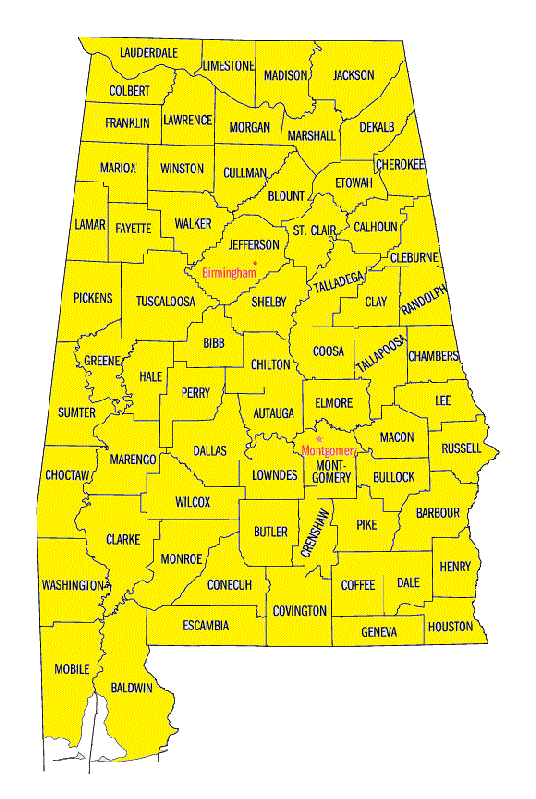 Station with a number in parenthesis (ie N4ZZ/M(22)) indicates that this is a moble station and the number indicated the order for which they will visit the county. If you look down this page to the area where the mobiles are listed you will see their listing of the county in order.
Autauga: N4ZZ/M(24); N4RNR/M(16)
Baldwin: KB0ETU
Barbour: KU4QG/M(24)
Bibb: N4QP/M(8); KU4QG/M(14); K4ZGB/M(2)
Blount: N4ZZ/M(28); KD8IGK; K4ZGB/M(6)
Bullock: KU4QG/M(20)
Bulter: KN4Y/M(14); N4RNR/M(13)
Calhoun: WA4JA/M(5)
Chambers: WA4JA/M(10)
Cherokee: KB4UPI; K4ZGB/M(11)
Chilton: N4ZZ/M(25); KX4DC; KU4QG/M(16)
Choctaw: KK4TE/M(12); KN4Y/M(9); N4RNR/M(2)
Clarke: KK4TE/M(3); KN4Y/M(7); N4RNR/M(4)
Clay: WA4JA/M(8)
Cleburne: WA4JA/M(7)
Coffee: KU4QG/M(22)
Colbert: N4ZZ/M(29); KU4QG/M(4)
Conecuh: KN4Y/M(5); N4RNR/M(10)
Coosa: KU4QG/M(17)
Covington: KN4Y/M(3); N4RNR/M(12)
Crenshaw: KN4Y/M(15); N4RNR/M(14)
Cullman: N4QP/M(2)
Dale: KN4Y/M(17); KU4QG/M(23)
Dallas: N4ZZ/M(20); KK4TE/M(7); KN4Y/M(12); N4RNR/M(7)
Dekalb: K4ZGB/M(9)
Elmore: N4ZZ/M(23); KU4QG/M(18)
Escambia: KN4Y/M(4); N4RNR/M(11)
Etowah: W4AUE; WA4JA/M(4); K4ZGB/M(7)
Fayette: N4ZZ/M(10); N4QP/M(5); KU4QG/M(9)
Franklin: N4ZZ/M(15); NV4B; KU4QG/M(5)
Geneva: KN4Y/M(2)
Greene: N4ZZ/M(14); KU4QG/M(12)
Hale: N4ZZ/M(17); KK4TE/M(10); KU4QG/M(13)
Henry: KC4FLT; WB2ZDD
Houston: K1DC; KN4Y/M(1); W4DHN;
Jackson: K4ZGB/M(10)
Jefferson: N4ZZ/M(17); KW4J; N4QP/M(1); N4QP/M(9); K4ZGB/M(4)
Lamar: N4ZZ/M(11); KU4QG/M(10)
Lauderdale: N4ZZ/M(2); KU4QG/M(2); AB4B
Lawrence: N4ZZ/M(3); K4NA; KU4QG/M(3)
Lee: K4RY; W4HOD
Limestone: KM4AYE; N4ZZ/M(1); KY4F; WA4JA/M(1); N4KG; KU4QG/M(1)
Lowndes: N4ZZ/M(21); N4RNR/M(15)
Macon: KU4QG/M(19)
Madison: WB4DBO; K4XG; KF4MMF; KV4TG
Marengo: N4ZZ/M(16 & 18); K4WI; KK4TE/M(5); KK4TE/M(9); N4RNR/M(5)
Marion: N4ZZ/M(6 & 9); KU4QG/M(7); N4QP/M(4); WB4KDI and KI4GUW
Marshall: KF4NOD; KN4OK; WA4JA/M(3); K4ZGB/M(8)
Mobile: KK4TE/M(1); KK4TE/M(14); AK4ZF
Monroe: KN4Y/M(6); N4RNR/M(9)
Montgomery: N4ZZ/M(22); K4NM
Morgan: N4ZZ/M(30); WA4JA/M(2)
Perry: N4ZZ/M(19); KU4QG/M(15); KK4TE/M(8); KN4Y/M(11); N4RNR/M(6)
Pickens: N4ZZ/M(12); N4QP/M(6); KU4QG/M(11)
Pike: N4RNR/M(16); KU4QG/M(21)
Randolph: WA4JA/M(9)
Russell: WX4RUS
St. Clair: N4ZUM; K4ZGB/M(5)
Shelby: N4ZZ/M(26); N4KC; K4ZGB/M(3)
Sumter: N4ZZ/M(15); KK4TE/M(11); KN4Y/M(10); N3RNR/M(1)
Talladega: WA4JA/M(6)
Tallapoosa: KK4AUP
Tuscaloosa: N4ZZ/M(13); N4QP/M(7); K4ZGB/M(1)
Walker: N4ZZ/M(8); WA1FCN/4; N4EMP; N4QP/M(3); KU4QG/M(8)
Washington: KK4TE/M(13); KN4Y/M(8); N4RNR/M(3)
Wilcox: KK4TE/M(2); KK4TE/M(4); KK4TE/M(6); KN4Y/M(13); N4RNR/M(8)
Winston: N4ZZ/M(7); KU4QG/M(6)
Clubs activity:
The following clubs have indicated that they will participate in the 2015 AQP.
WX4RUS: Russell County Radio Club plans on operating some phone and CW from the Russell County EMA with call sign WX4RUS Jim Herring WX4JIM, Russell County EC 73


W4DHN, Wiregrass ARC, Dothan, Houston County will be on the air with their new club station



K4RY: Auburn University Amateur Radio Club will be operating low power (max 100 watts) fixed station from the campus in Lee County. We will more than likely be voice only. This is our first time participating and we look forward to it! SueAnne KK4UWV, AUARC Vice President.



W4HOD: The Heart of Dixie ARC Will be operating from Lee County


Portable Activities:


KD8IGK: Bill will do a portable operation from Blount County.



KB4UPI: Hello Jim, I will be operating HF mobile from Cherokee county. I will also operate portable some with a dipole. Mick, KB4UPI

Mobile Activities:

Please let me know as soon as you can.


N4ZZ/M:


The N4ZZ/m team will be at it again, with Melody/KI4HVY driving and
Jim/AD4EB and Don/N4ZZ operating CW on 15,20,40,and maybe 80m.
Please lookup AD4EB for N4ZZ on QRZ.com for additional information.
Hope to work you often, we will be listening for you. 
73 - Jim - AD4EB



County Line Crossing times:


01 LIME  1600  Limestone
02 LAUD  1619  Lauderdale
03 LAWR  1640  Lawrence
04 COLB  1654  Colbert
05 FRNK  1718  Franklin
06 MARI  1742  Marion
07 WINS  1752  Winston
08 WLKR  1818  Walker
08b MARI  1844  Marion (again)
09 FAYE  1859  Fayette
10 LAMA  1934  Lamar
11 PICK  1959  Pickens
12 TUSC  2031  Tuscaloosa
13 GREE  2103  Greene
14 SUMT  2129  Sumter
15 MRGO  2204  Marengo
16 HALE  2223  Hale
16b MRGO  2248  Marengo (again)
17 PERR  2256  Perry
18 DLLS  2317  Dallas
19 LOWN  2359  Lowndes
20 MGMY  0019  Montgomery
21 ELMO  0039  Elmore
22 AUTA  0100  Autauga
23 CHIL  0115  Chilton
24 SHEL  0141  Shelby
25 JEFF  0202  Jefferson
26 BLOU  0239  Blount
27 CULM  0303  Cullman
28 MORG  0328  Morgan

This is in county order:

Autauga   N4ZZ/M(24)
Blount   N4ZZ/M(28)
Chilton   N4ZZ/M(25)
Colbert   N4ZZ/M(4)
Cullman   N4ZZ/M(29)
Dallas   N4ZZ/M(20)
Elmore   N4ZZ/M(23)
Fayette   N4ZZ/M(10)
Franklin   N4ZZ/M(5)
Greene   N4ZZ/M(14)
Hale   N4ZZ/M(17)
Jefferson  N4ZZ/M(27)
Lamar   N4ZZ/M(11)
Lauderdale N4ZZ/M(2)
Lawrence   N4ZZ/M(3)
Limestone  N4ZZ/M(1)
Lowndes   N4ZZ/M(21)
Marengo   N4ZZ/M(16&18)
Marion   N4ZZ/M(6&9)
Montgomery N4ZZ/M(22)
Morgan   N4ZZ/M(30)
Perry   N4ZZ/M(19)
Pickens   N4ZZ/M(12)
Shelby   N4ZZ/M(26)
Sumter   N4ZZ/M(15)
Tuscaloosa N4ZZ/M(13)
Walker   N4ZZ/M(8)
Winston   N4ZZ/M(7)


WA4JA/M: 10-80m Phone, Low Power
Limestone Morgan Marshall Etowah Calhoun Talladega Cleburne Clay Randolph Chambers If it appears WA4JA/m will be the only active station in some of the counties, I will extend the run and shorten on others that are already covered. John Almon, WA4JA



N4QP/M: Plan to be mobile from 1100 to 1900 CST with John N4QP and Gary N4AST driving and occasionally operating. Plan to be on 40CW most of the time, but have 40M SSB and 20M SSB and CW capability. The following counties: 1. Jefferson 2. Culman 3. Walker 4. Marion 5. Fayette 6. Pickens 7. Tuscaloosa 8. Bibb 9. Jefferson



K4ZGB/M: Tom will be mobile in 11 counties:
Tuscaloosa Bibb Shelby Jefferson St Clair Blount Etowah Marshall Dekalb Jackson Cherokee



KK4TE SSB: Alright.....Its that time!!! N4SDB is joining the effort and their route takes me from Mobile County, to Washington, Clarke, Wilcox, Marengo, back into Wilcox, Dallas, Perry, Back into Marengo, Hale, Sumpter, Choctaw, back into Washington, and then back into Mobile County for a total of 10 Southwestern Alabama counties. (I65 to hwy 43, to hwy 5, to hwy 80, to hwy 17, to hwy 45 and then home, one BIG loop). I plan to operate on SSB only, mainly on 20 meters. I will be on 40 meters late as I leave Choctaw, change antennas, and head to Washington and Mobile to wrap up my day. I answer paper QSLs 100%. 73 CYA Soon Chuck KK4TE


KN4Y CW: Just finished my route, plans are to run following counties in this order: Houston, Geneva, Covington, Escambia, Conecuh, Monroe, Clarke, Washington, Choctaw, Sumter, Perry, Dallas, Wilcox, Butler, Crenshaw, Pike, Dale.



N4RNR SSB: I think I will focus on the lower left quarter of the State.  This would include Sumter, Choctaw, Washington, Clarke, Marengo, Perry, Dallas, Wilcox, Monroe, Conecuh, Escambia, Covington, Butler, Crenshaw, Lowndes, and Autauga.  That is 16 counties to cover in 12 hours, which will give me 30-45 minutes in each county. Plan right now is to use my Icom IC-7000 and Hustler antennas for 40 and 20 meters - Phone only.  Ed/KJ4LTA will be my driver.



KU4QG/M SSB: Here is a timed list of the counties I intend to travel for the 2015 AQP. I have the ability to work on 10,15,20,40 and 80 meters. Depending on the conditions, time of the day, and the action/response on a band: will determine when and where I will be working a band. As a general rule I will be in a county for approximately 30 min. Working the highest band to the lowest. Generally 10,15,20and 40 in the day till the terminator passes: and 20, 40 and 80 meters into the night. As suggested I will be on the first 10khz general phone band for each band.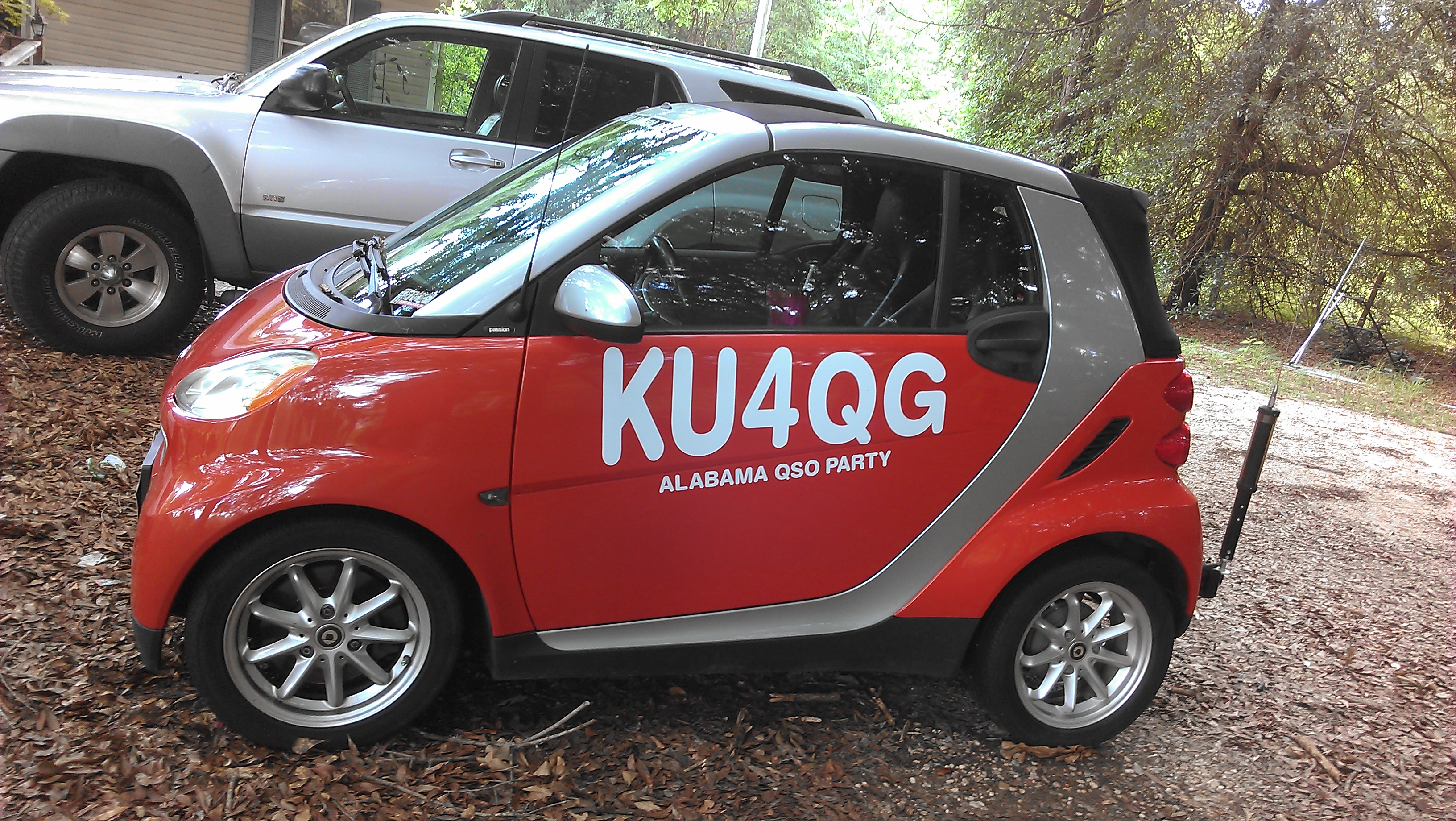 I am still looking for a driver to drive only or co-operator/driver. So here goes my plans: (all times local CST times) County Local UTC Abbreviation Limestone 1100 - 1130 1600 - 1630 LIME Lauderdale 1130 - 1200 1630 - 1700 LAUD Lawrence 1200 - 1230 1700 - 1730 LAWE Colbert 1230 - 1300 1730 - 1800 COLB Franklin 1300 - 1330 1800 - 1830 FRAN Winston 1330 - 1400 1830 - 1900 WINS Marion 1400 - 1430 1900 - 1930 MARI Walker 1430 - 1500 1930 - 2000 WALK Fayette 1500 - 1530 2000 - 2030 FAYE Lamar 1530 - 1600 2030 - 2100 LAMA Pickens 1600 - 1630 2100 - 2130 PICK Greene 1630 - 1700 2130 - 2200 GREE Hale 1700 - 1730 2200 - 2230 HALE Bibb 1730 - 1800 2230 - 2300 BIBB Perry 1800 - 1830 2300 - 2330 PERR Chilton 1830 - 1900 2330 - 0000 CHIL Coosa 1900 - 1930 0000 - 0030 COOS Elmore 1930 - 2000 0030 - 0100 ELMO Macon 2000 - 2030 0100 - 0130 MACO Bullock 2030 - 2100 0130 - 0200 BULL Pike 2100 - 2130 0200 - 0230 PIKE Coffee 2130 - 2200 0230 - 0300 COFF Dale 2200 - 2230 0300 - 0330 DALE Barbour 2230 - 2400 0330 - 0400 BARB I do not think 10 will be up, as it has not been doing to well lately. But I will give It a try. For the most part I plan to 15/20/40 meters, ten minutes each in the day; and 20/40/75 meters in the evening. As requested I will be in the first five or so KHz of the general portion of the respective bands at the Counties/Times listed. Bob


Fixed Stations Activities:


KM4AYE: The Limestone A.R.E.S group up here are working a M.S. bike-A-thon Sat. but I am going to try and make some contacts after we get finished.


KW4J: I plan to participate in the 2015 AQP. Most likely I will be a fixed station in Jefferson County. 73 Bill Davidson KW4J


KX4DC: Hello, I hope to be able to join in tomorrow. My name is David Cupp, KX4DC. I am brand new to HF. Currently trying to get antenna and entire rig set-up. I live in Clanton, Chilton Co, and have been looking for any locals into Amateur Radio. (Not many on 2 meter) Should be a good chance to meet some, and others too. I am looking forward to getting on air if I can get everything installed in time. David Cupp, KX4DC


KK4AUP: Mike indicates that he will be on from Tallapoosa County. Somewhat new to the AQP and perhaps contesting, hopefully everyone will be help him along with support the Alabama QSO Party.


KN4OK: I plan on operating Marshall county again this year. Dave, kn4ok


KY4F: Not sure how big an effort I can put in, but, I'll be on from Limestone County. I'm sure I get at least a few hours in from Limestone county. 73, Doug KY4F


WA1FCN/4: Hi Jim KC4HW Not sure if I should post it, but I will once again be active. Walker wlkr county Not sure if I will be just cw yet.... I'll make that decision at the last minute I guess. Good luck to all. 73 BoB WA1FCN


AK4ZF: I am planning on participating in the Alabama QSO Party this year. Meant to last year but life got in the way. Anyway - I'll be in Mobile County using SSB. 73, Tony Cekolin - AK4ZF


KB0ETU: Put me down for working cw from Baldwin County. Most likely will be working QRP, but I just might switch to QRO for a change - but probably not! 72/73, Phil KBŘETU Lillian, AL (Baldwin county)


WB4KDI: Wb4kdi and ki4guw will be active once again from Winfield in Marion co. Antenna is still limited to what I can put over the house. 73 Dave


N4KC: I plan on operating the Alabama QSO Party from my home location in Shelby County. 73, Don Keith N4KC


KV4TG: I plan to participate in the 2015 AQP from Madison County, AL, as a single operator in phone mode. Thanks for all the work to make this event happen. Dennis Pesca KV4TG


NV4B:
put me down for a full-time effort in Franklin County. That could change, but for now, I'm planning to operate from there. 73, --Chris, NV4B


N4KG:
operating mixed mode


N4EMP:
Will be 'Fixed Station' and operating SSB only here in Walker County as Single operator. Noticed we haven't shown up on County Activity listing yet and figured you needed more details!! 73 from WLKR de N4EMP Eddie M. Phillips Jasper, Alabama


K4WI:
Cort from Marengo county.


K4NM:
I plan to participate for an hour or two next week during the Alabama QSO Party. I will be at my home in Montgomery. I tend to regularly upload my logs to LoTW. 73 de K4NM //Steve


W4VPZ:
I plan to operate part of the time. Kelley W4VPZ Madison County

Hi Jim, Carl (KC4FLT) and myself (WB2ZDD) will be operating from Dad?s in Henry County this weekend. We will each be operating separate stations with our own callsigns. Thanks!


K4XG:
I'm planning on participating a little on Saturday from Madison Cty, probably just a few QSOs in the evening. 73, Todd
Anybody? We need all the mobiles that we can get! Please consider activating a few counties.