Navigation
2016 AQP





2015 AQP

Results
Soapbox Comments
Received Logs
County Activity




2014 AQP





2013 AQP





2012 AQP




2011 AQP




2010 AQP




2009 AQP




2008 AQP




2007 AQP




2006 AQP




2005 AQP




Past Events
2015 County Activity
The goal is to activate all Alabama counties!!
If you are planning on operating, as a fixed station, mobile or an individual station from an Alabama County(ies), please let me know your callsign, category, mode, what county(ies) and when you will be operating, by sending
email to me
. Thanks!
Updated Jun 3rd, 2016
County Activity (Includes all stations thus far):
Those counties that are grey in color have no activity as yet.
Need as many operators as we can for all counties. So please consider operating from your home county.
If you can consider going mobile and cover a few counties, I am sure that it will be fun!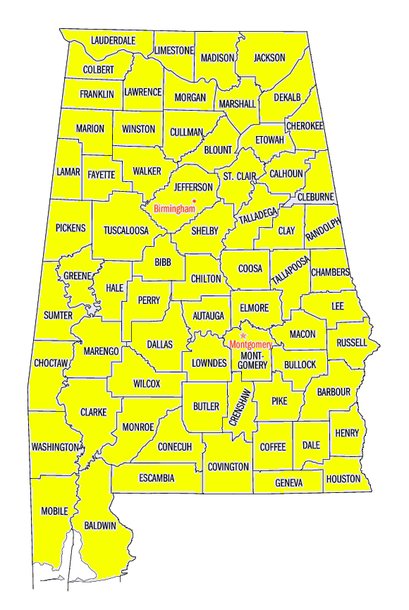 Station with a number in parenthesis (ie CALLSIGN/M(22)) indicates that this is a moble station and the number indicated the order for which they will visit the county. If you look down this page to the area where the mobiles are listed you will see their listing of the county in order.
Autauga: N4ZZ/m (22); KK4PC
Baldwin: N4RT
Barbour: W4AN/M(2); KN4Y/M(10)
Bibb: K4DL
Blount: N4QP/M(6); N4ZZ/M(26)
Bullock: KN4Y/M(4)
Bulter: KC4HW/M(7)
Calhoun: N4QP/M(3); K4ZGB/M(8)
Chambers: W4AN/M(23); KN4Y/M(7)
Cherokee: K4ZGB/M(14)
Chilton: N4ZZ/M(23)
Choctaw: W4AN/M(11); KC4HW/M(2)
Clarke: W4AN/M(9); KC4HW/M(1)
Clay: K4ZGB/M(5); KN4Y/M(7)
Cleburne: K4ZGB/M(7)
Coffee: W4AN/M(5); WA4LR; KM4NRL; KM4QZE; KC4HW/M(10*)
Colbert: N4ZZ/M(4)
Conecuh: W4AN/M(7); KC4HW/M(6)
Coosa: K4ZGB/M(3)
Covington: W4AN/M(6); KC4HW/M(9)
Crenshaw: KC4HW/M(9)
Cullman: N4QP/M(7); N4ZZ/M(27)
Dale: W4AN/M(4); KN4Y/M(2); KC4HW/M(11*)
Dallas: W4AN/M(16); N4ZZ/M(18)
Dekalb: K4ZGB/M(15)
Elmore: W4AN/M(20); N4ZZ/M(21); W4HOD/M(4)
Escambia: KC4HW/M(5)
Etowah: N4QP/M(4); K4ZGB/M(13)
Fayette: N4ZZ/M(9)
Franklin: N4ZZ/M(5); NV4B
Geneva: KC4HW/M(12)
Greene: N4ZZ/M(13)
Hale: W4AN/M(13); N4ZZ/M(16)
Henry: W4AN/M(3); KJ4LTA; KN4Y/M(11); KU4QG
Houston: W4DHN; K1DC; KN4Y/M(10)
Jackson: K4ZGB/M(16)
Jefferson: N4QP/M(1) and (10); K4ZGB/M(11); N4ZZ/M(25)
Lamar: N4ZZ/M(10)
Lauderdale: N4ZZ/M(2); AB4B; W4AQQ
Lawrence: KS4T; N4ZZ/M(3)
Lee: W1BO; W4AN/M(22); KN4Y/M(8); W4HOD/M(1) and (5); W4HOD Fixed Station also
Limestone: N4ZZ/M(1) AND (28); KY4F
Lowndes: W4AN/M(17); N4ZZ/M(19)
Macon: W4AN/M(19); KN4Y/M(5); W4HOD/M (2)
Madison: WA4DXP; N4UC
Marengo: W4AN/M(14); N4ZZ/M(15); K4WI
Marion: N4ZZ/M(6) AND (8); WB4KDI
Marshall: N4QP/M(5); KF4NOD
Mobile: WA8HSB
Monroe: W4AN/M(8); KC4HW/M(4)
Montgomery: W4AN/M(18); N4ZZ/M(20)
Morgan: N4ZZ/M(28)
Perry: W4DRN; W4AN/M(15); N4ZZ/M(17); KD4EXS
Pickens: N4ZZ/M(11)
Pike: KN4Y/M(3)
Randolph: K4AGB/M(6)
Russell: W4AN/M(1); KN4Y/M(9)
St. Clair: N4ZUM; N4QP/M(2); K4ZGB/M(10) and (12)
Shelby: K4ZGB/M(1); N4ZZ/M(24); N4KC
Sumter: W4AN/M(12); N4ZZ/M(14)
Talladega: K4BQP; K4ZGB/M(2) AND (9)
Tallapoosa: W4AN/M(21); K4ZGB/M(4); KN4Y/M(6); W4HOD/M(3)
Tuscaloosa: N4QP/(9); N4ZZ/M(12); KX4X
Walker: N4QP/M(8); N4ZZ/M(8); N4EMP; WA1FCN
Washington: W4AN/M(10); KC4HW/M(3)
Wilcox: W4HCW
Winston: N4ZZ/M(7)
Clubs activity:
The following clubs have indicated that they will participate in the 2016 AQP.
W4DHN: The Wiregrass Amateur Radio Club, Dothan, Alabama will be active from its club station in Houston County.
W4HOD: The Heart of Dixie Amateur Radio Club, Opelika, AL will be active from its club station in Lee County.
W4DRN: W4DRN, the Dummy Loads Contest Group, Alabaster, AL will be active with two 100w fixed/portable stations on CW and SSB. We will be camping on private land running a field day style op with our club call and 3 or 4 ops Brian Byers WB4IT


Mobile Activities:

Please let me know as soon as you can.


KU4QG/M: Bob has car trouble and will not be able to operate mobile. He will be on "Fixed Station" from HENRY County.
W4AN/m:John , K4BAI, and I will be doing AQP with my two boys Andy and Randy driving for us. Here is our planned route: Russell, Barbour, Henry, Dale, Coffee, Covington, Conecuh, Monroe, Clarke, Washington, Choctaw, Sumter, Hale, Marengo, Perry, Dallas, Lowndes, Montgomery, Macon, Elmore, Talapoosa, Lee, Chambers Jeff KU8E
N4QP/M:N4QP, John operating with N4AST, Gary driving and operating. Will be mobile starting around 12:00 noon Saturday from (1) Jeff (2) Sclr (3) Chou (4) Etow (5) Mrsh (6) Blou (7) Culm (8) Wlkr (9) Tusc (10) Jeff. Operation will be on 40M and 20M primarily CW with some SSB phone as well. 100 watts to a homebrew bugcatcher. Gary N4AST
K4ZGB/M: AQP MOBILE ROUTE K4ZGB 1. SHELBY 2. TALLADEGA * 3. COOSA * 4. TALLAPOOSA 5. CLAY 6. RANDOLPH * 7. CLEBURNE * 8. CALHOUN 9. TALLADEGA (again) 10. ST CLAIR 11. JEFFERSON * 12. ST CLAIR (again) 13. ETOWAH 14. CHEROKEE 15. DEKALB 16. JACKSON
N4ZZ/M: The N4ZZ/m team will be at it again, with Melody/KI4HVY driving and Jim/AD4EB and Don/N4ZZ operating CW from the following 28 counties: 01 LIME, 02 LAUD, 03 LAWR, 04 COLB, 05 FRNK, 06 MARI, 07 WINS, 08 WLKR, 08b MARI again, 09 FAYE, 10 LAMA, 11 PICK, 12 TUSC, 13 GREE, 14 SUMT, 15 MRGO, 16 HALE, 17 PERR, 18 DLLS, 19 LOWN, 20 MGMY, 21 ELMO, 22 AUTA, 23 CHIL, 24 SHEL, 25 JEFF, 26 BLOU, 27 CULM, 28 MORG, 28a LIME again. We will be operating exclusively CW on 80, 40, 20, and maybe 15m if it opens. Please lookup AD4EB or N4ZZ on QRZ.com for the times we plan to enter each county. We look forward to working you in the contest. 73 - Jim - AD4EB ----- Full names in order worked: Limestone, Lauderdale, Lawrence, Colbert, Franklin, Marion, Winston, Walker, Fayette, Lamar, Pickens, Tuscaloosa, Greene, Sumter, Marengo, Hale, Perry, Dallas, Lowndes, Montgomery, Elmore, Autauga, Chilton, Shelby, Jefferson, Blount, Cullman, Morgan.
KC4HW/M: Trying to get organized for (1)CLARKE (2) CHOCTAW (3) WASHINGTON (4) MONROE (5) ESCAMBIA (6) CONECUH (7) BUTLER (8) CRENSHAW (9) COVINGTON (10*) COFFEE (11*) DALE (12) GENEVA. * = BONUS COUNTIES. If I run short of time then I will skip these two to get my home county of Geneva. Unfortunately no driver this year, so will find a location then operate. I should be able to do 1, 2 and 3 operating fairly close to each other and actually 4, 5 and 6 will be fairly close to each other. The remaining counties I will have to drive and then operating once I get somewhere... Will be operating 20m and 40m CW from all counties. Check my QRZ page for more information
KN4Y/M: Plan to run mobile in the ALQP: (1)Houston, (2)Dale, (3)Pike, (4)Bullock, (5)Macon, (6)Tallapoosa, (7)Clay, (8)Randolph, (9)Chambers, (10)Lee, (11)Russell, (12)Barbour, (13)Henry. Plan to also stop and run NPS Horseshoe Bend #MP05. Hope to hear you, Ed KN4Y
W4HOD: K4IQJ and KA4PKB will be mobile in Lee, Macon, Tallapoosa and Elmore counties.





Fixed Stations Activities:


K4BQP:Jim:

Per your request: 

Notification for intent to operate 2016 Alabama QSO party

K4BQP

A3 emission

15 and 40 meters

Charles Compton

Talladega County

Fixed station

Hope to see you on there.  I intend to try to have fun instead of 
approaching this thing like work as I have always done in the past.  
Maybe this is why I QUIT for many years!    


W1BO:I will be operating W1BO from Lee County tomorrow. Fixed Base throughout the day. Jeremy Dunman W1BO
N4ZUM: I'll operate from St.Clair Co. Low Power or QRP depending on WX an Band Conditions. 73///Ed N4ZUM
KS4T: I would like to participate from Lawrence County Alabama. Looking forward to this event. Thank You ! Todd Winsor KS4T
WA8HSB: Jim- I live in Mobile County and plan to operate some during the AQP. With other commitments that weekend, it won?t be a full time effort but enough to sufficiently put Mobile on the bands. Hope the conditions are good. 73, John WA8HSB Mobile, AL
K4DL: I plan to work the Alabama QSO party this year for Bibb County. I will be a single operator, high power, and phone only. Dennis Littleton - K4DL
WA4LR and KM4NRL: Larry and Jill will be active from Coffee County. They maybe using their individual calls. WA4LR is a seasoned Ham and Jill just got here licenses last year. These guys will be using a newly installed TH11DX and a G5RV.
KX4X: should be able to operate some from tuscaloosa both cw and ssb
KD4EXS: I will be on the air from Perry County for the QSO Party this year.    Single Operator Low Power (100 Watts) Phone Only   There is a small chance that I will go mobile during the day to activate some surrounding counties.    Thanks, John.
KY4F: I'll try to get on for a bit. May have out of town guests. What operating I do will be CW only.
KK4PC:Please put me down as a Fixed Station, Phone Only, in Autauga County. I will try to work as many of the 11 hours as I can. Phillip Calvert - KK4PC
KM4QZE:

I plan to participate in the QSO party
Coffee County, Base Station home QTH
Single Operator
Phone Only
100W (FT-991, G5RV wire dipole)
Time: ??? I will spend some time CQing and some answering other 
CQ's during 12hr period.

I am a new ham as of Feb 2016....so this is new to me other 
than answering CQ's from QSO parties in other states. 
My information is on QRZ.

Please let me know if there is anything else needed.


Ken Blackwell

W4HOD: (AA4YL) I have family commitments Saturday, but will be back in time to operate Saturday evening in Lee County.
WB4KDI and KI4GUW: My daughter, KI4GUW, and I, WB4KDI, will once again be on CW from Winfield in Marion County. Antenna, as usual, not very high over the roof. See you then.
WA1FCN: Well you know I will once again be active from Walker county. I think I might just try mixed mode again. GL BoB WA1FCN
W4HCW: I will be activating Wilcox County from a fixed station. Thanks Curtis Williamson W4HCW
K4WI: I will be on part time from Marengo Co. Cort K4WI
W4AQQ: Unless I get a disruption, I plan on participating in the AQP. I ll be fixed in lauderdale county. Roy Nagle de W4aqq
W4A:



I (WA4DXP) have built the W4A page for this weekend's Alabama QSO Party on QRZ.com. I'll be using that call. Take a look at QRZ.COM/db/W4A I have logo and other information about the event. Also a special QSL card for those who work W4A and want a card. This will be the first time I plan to work as much of the 12 hours as I can this coming Saturday. Will be on mostly 40 & 20 during the day and probably some of 75-80 in the evening. I'll be working SSB and CW, since you get another QSO credit for working the same station, but on a different mode. Different bands also count as another contact. Stations outside Alabama, try to work as many counties as you can for multiplier credit.
See on you the bands on Saturday.
73, M.D. WA4DXP (W4A)

N4EMP: We'll be operating as a 'Fixed' location station again this year. Using the ALABAMA CONTEST GROUP as our 'Club' sponsor if it's okay. Will operate primarily SSB on any good open band(s) allowed as per rules. 73 from N4EMP Jasper, AL Walker County (WLKR)
NV4B: Chris will be operating near full-time in the single-op low-power mixed-mode category from Franklin County.
KF4NOD: Mark will be running fixed station which will be a individual station here in Marshall County, Al

Anybody? We need all the mobiles that we can get! Please consider activating a few counties.